Every city has a coat of arms, a symbol that identifies the city, representing a small part of the history of
the city and sometimes, of its founding.
The simple version of the Lisbon coat of arms shows two ravens on a boat, the legend says that there were two ravens on the boat that transported St. Vincent from Sagres to Lisbon. The legend also says that after being martyred, St Vincent was protected by the ravens from other animals so he would not be eaten.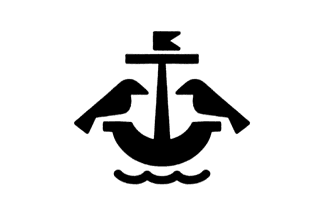 Simple coat of arms of Lisbon
St. Vincent was a Spanish deacon of Zaragoza in the third century that died in Valencia, brought to Sagres by the Moors. In 1173 he was brought to Lisbon by decision of the king, at that time, the King also decided that ravens would became a symbol of Lisbon.
For a long time, the city council had in the St Jorge Castle a cage with several ravens, but that ended more than fifteen years ago, and now the ravens are more a symbol and hardly found in Lisbon.
A more detailed coat of arms shows the motto of the city "The very noble and always loyal city of Lisbon"
The Lisbon coat of arms
The collar that surround the symbol of Lisbon belongs to the Order of the Tower and the Sword, created in 1459 and nowadays it is only awarded to the most important people, since 1963 it has been awarded only for Presidents.
Although there is the legend about the boat that transported the remain of St. Vincent, Lisbon had already a coat of arms before that, and it was probably a boat, representing the city of Lisbon, as a coastal and a port city.
This most recent symbol is dated from 1940 with its details, even the lines representing the water.
Even being almost impossible to find a raven in the city, when visiting Lisbon you will have several opportunities to see its coat of arms.
In the floor
Street Lamps
On walls